Are you struggling with anger issues or stress? Looking for calming stones that can aid your healing journey? You're in the right place and I'm glad you are here. I want to commend you for taking this step to improve your inner peace. Just having the mental awareness to make changes in your life is a major step on the growth journey.
First, let's talk about the truth about how anger and stress impact the human body. I'm not talking about scientific evidence (there is plenty). I want to tell you about my unimaginable personal journey of how negative energies nearly destroyed my body over many years.
Due to my sensitivity on almost every level, I am the canary in the coal mine.
For over a decade, I've studied personal growth. For those who haven't read about my growth journey, I can summarize it as deeply traumatizing. Panic attacks, stress, anxiety, and depression plagued me for years. It wasn't until recently that I realized the real impact my emotional wounds had on my nervous system.
Late in 2020, my health began deteriorating rapidly. I went from being physically fine to not being able to walk and barely being able to talk. It was impossible for me to take care of my daily needs such as cooking and cleaning. I became completely disabled within 8 months. My body felt as if it was dying, and no one could explain why. Test after test came back negative.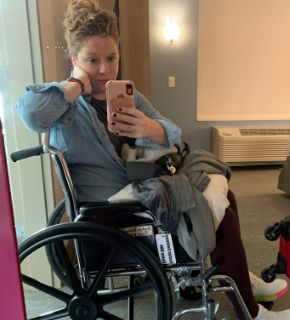 The weird thing is, mentally, I felt strong. I was able to find peace of mind as I went through this ordeal because I had the right tools to cope—I practiced mindfulness and focused on releasing my negative thoughts. Yet, each day, a new symptom would appear. Fortunately, I found my way to the Cleveland Clinic, where I found an amazing team of Doctors on the cutting edge of medicine. These doctors have been working to better understand how energy (specifically trauma) impacts our bodies.
With the help of the Cleveland Clinic Center for Neurological Restoration, I am beginning to regain my life. As it turns out, my nervous system may have been profoundly affected by the years of trauma I suffered. Although my diagnosis of a rare neurological disorder raises a lot of questions (how did it start, what caused it for sure), it highlights something very clear: energy impacts the body.
With the help of my team of doctors, I am actively working to restore my body holistically. The variety of treatment options includes cognitive behavioral therapy, neurological physical therapy, psychology of pain management, nutrition, and even acupuncture. My health and strength are improving every day.
In spite of the fact that you may not experience the level of symptoms I have, just know that energy impacts your body every moment of every day. The best part is, that you have the ability to shift your energetic state and create an energy field of healing. By adding crystals to your practice, you can make it more powerful.
Crystals can be used for stress relief, managing negative emotions, and creating more inner strength. With so much going on in the world, crystals are a powerful way to help shift your energy, especially during difficult times.
What are the most powerful healing crystals for anger and stress?
1. Amethyst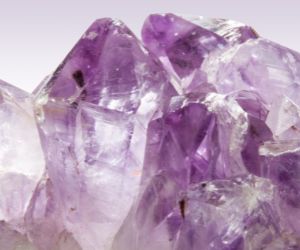 Healing properties:
The amethyst crystal is an absolutely beautiful stone and it's powerful and protective. It guards against energetic attacks and transmutes energy into love protecting you from harm. This is an excellent choice for any healing journey.
Most effective way to use:
Place in your bedroom on your nightstand, as it will enhance intuition and relaxation.
Important things to remember:
Amethyst is a wonderful crystal and protective stone to release feelings of anger. Keep it close when you are feeling overwhelmed and frustrated.
What Chakra is Amethyst used for?
Crown Chakra
2. Blue Lace Agate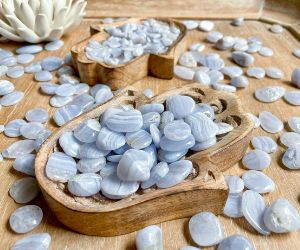 Healing properties:
The Blue Lace Agate is a nurturing, supportive, and soothing stone, neutralizing anger, inflammation, and infections. Blue Lace Agate is also said to help the body boost and maintain the immune system.
Most effective way to use:
Place in your bedroom on your nightstand as part of your sleeping stones collection. The stone is believed to relieve negative feelings and free the mind from overthinking.
Important things to remember:
Agate crystals can give their bearers a 'facelift' emotionally. It is used to heal and build strong emotional health which leads to maintaining physical health. In addition to being connected to the heart chakra, this crystal promotes giving and receiving unconditional love.
What Chakra is Blue Lace Agate used for?
Heart Chakra
3. Rose quartz
Healing properties:
Another of my favorites, this beautiful crystal is associated with the heart chakra. This is a healing stone that helps heal emotional wounds and to allow you to foster self-love. If you are looking for more calming energy in life, this is a great pick.
Most effective way to use:
You should use this stone whenever you're seeking more love in your life, which includes self-compassion. The rose quartz stone encourages trust, compassion, and emotional healing by clearing away the things that prevent you from loving yourself and others fully.
Important things to remember:
The rose quartz promotes love, self-love, friendship, deep inner healing, and feelings of peace at all levels. Take this with you during the day and pull it out whenever you need it to help you decompress.
What Chakra is Rose quartz used for?
Heart Chakra
4. Smoky quartz (or Smokey quartz)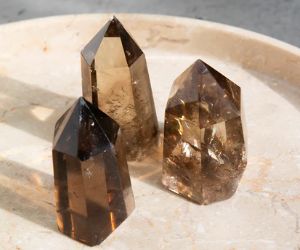 Healing properties:
Known for its ability to help you move on from difficult or painful experiences, Smoky Quartz is a great crystal to ground you. It helps you get over the past so that you are better, not bitter, as you let go of it.
Most effective way to use:
The stone cleanses and purifies your energy field which allows you to release the negative energies that keep you stuck – whether it's stress, anxiety, fear, sadness, or other negative vibrations. This stone's supportive quality makes it a great energy stabilizer as well. Keep this stone close to you during the day, in your pocket or on your desk.
Important things to remember:
In addition to connecting you to the supportive energy of the Earth, Smoky Quartz crystal also guides you to move forward from lower vibrational energies that may be holding you back. In addition to being one of the most powerful stones to release and let go of unwanted energies in your energy field, it also has powerful cleansing and detoxifying properties.
What Chakra is Smoky quartz used for?
Root Chakra
5. Lapis Lazuli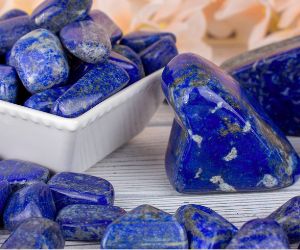 Healing properties:
This powerful crystal, Lapis Lazuli, activates the higher mind and enhances intellectual ability. This aids the learning process by stimulating the desire for knowledge, truth, and understanding. Lapis Lazuli improves circulation and cardiac rhythm. It also is said to reduce vertigo, while lowering blood pressure, and may alleviate insomnia.
Most effective way to use:
As a stone of truth, Lapis encourages honesty in the spoken and written word. Keep it close throughout your day to help you speak more openly and honestly.
Important things to remember:
This is a very powerful stone. Throughout mankind's history, Lapis Lazuli has been a prized stone. As a symbol of royalty, honor, gods, power, vision, and spirit, its deep, celestial blue remains a timeless one. There is no doubt that it is a universal symbol of wisdom and truth.
What Chakra is Lapis Lazuli quartz used for?
The throat chakra and the third eye chakra are both associated with Lapis Lazuli.
6. Clear Quartz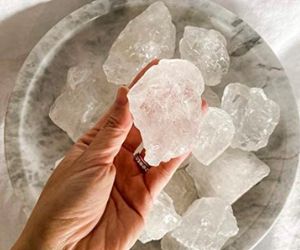 Healing properties:
This crystal is also known as a "master healer" because it amplifies the energy, thoughts, and effects of crystals nearby. It's overall a great choice to have in any crystal collection. This stone absorbs and neutralizes all negative energy. A great healer, this crystal can revitalize your emotional, mental, physical, and spiritual wellbeing. The stone acts as a cleanser for the soul and aids in concentration. All in all, this crystal brings your body back into balance by creating harmony amongst the chakras and aligning your spiritual body.
Most effective way to use:
To make the best use of this stone, keep it easily accessible at all times. The crystal can be worn as a necklace, which places the stone close to your heart and head – ideal for mental and emotional clarity.
Important things to remember:
There is no doubt that clear quartz is one of the most popular and easily recognizable crystals around. With this stone, you can clear your mind, body, and spirit of clutter and align yourself with your highest self. By channeling your thoughts, you can clear out the mental clutter.
What Chakra is Lapis Lazuli quartz used for?
Third-Eye Chakra
7. Blue Kyanite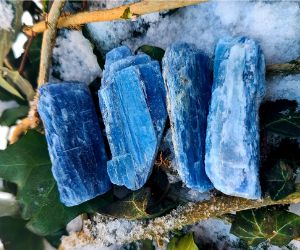 Healing properties:
The stone Blue Kyanite is a good choice for meditation and attunement. Besides helping you speak your truth, it can also help you feel more peaceful, and it can help you connect to higher consciousness. Also, it dispels blockages and provides a balance of yin-yang energy.
Most effective way to use:
Blue kyanite helps you connect to your intuitive abilities and it opens the third eye chakra. Use in your meditation practice for an extra boost. This is the perfect stone to add if you are looking to improve your meditation and mindfulness practice.
Important things to remember:
Kyanite is a powerful stone with many helpful applications and it also comes in many different colors.
What Chakra is Blue Kyanite quartz used for?
Throat Chakra
8. Pink Opal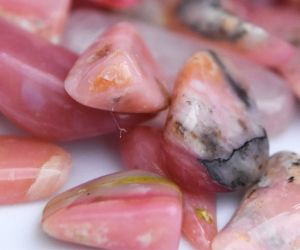 Healing properties:
Pink Opal is a stone of love associated with the Heart Chakra. It allows our hearts to open to love by healing our emotions. We often refer to this crystal as "The Stone of Resolution" since it heals our emotional wounds and deeply buried fears, allowing us to let them go.
Most effective way to use:
Use it to calm your nerves when you feel anxious or nervous during stressful times.
Important things to remember:
Pink Opal's gentle vibration and soothing pink colors will encourage peace and tranquility. As you go through difficult times, this stone's vibration helps dissipate stress, worry, and anxiety.
What Chakra is Pink Opal quartz used for?
Heart Chakra
9. Black Tourmaline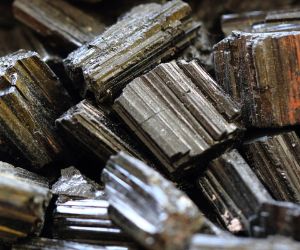 Healing properties:
Black Tourmaline, which purifies and cleanses the emotional body, can be used to remove negative energies and thoughts such as anxiety, anger, and worthlessness. In addition to increasing physical vitality, this stone is said to increase your energy levels and help you function more effectively. This stone may be able to help you gain greater self-confidence or self-esteem as it transforms negative energies into positive ones. You will also experience less stress and anxiety.
Most effective way to use:
A good way to use black tourmaline on a daily basis is as jewelry. Black Tourmaline vibrations are more easily felt through skin-to-skin contact.
Important things to remember:
This stone is seen as a symbol of strength. As a stone of protection and cleansing, Black Tourmaline is highly sought after. This is a great stone to add to your collection if you are just beginning.
What Chakra is Black Tourmaline quartz used for?
Root Chakra
10. Red Jasper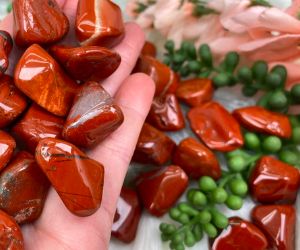 Healing properties:
The supreme nurturer for stressful situations. The red jasper stone promotes tranquility and wholeness. During stressful times, this healing gemstone supports and sustains you, and encourages you to connect with the earth.
Most effective way to use:
Can be worn as jewelry to promote inner peace when you are having a hard time, and is also powerful to use during meditation.
Important things to remember:
Red Jasper can help us feel safe and secure in our physical bodies so we feel freer to explore spiritually. This stone can help you heal unhealthy feelings of shame or guilt, and you break out of a "victim" mentality.
What Chakra is Red Jasper quartz used for?
Root Chakra
11. Green Aventurine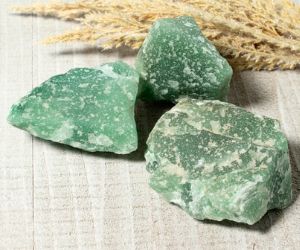 Healing properties:
Green Aventurine is known as a comforter and heart healer. The stone blocks out electromagnetic emissions from computers, televisions, and other electronic equipment, neutralizing all sources of electromagnetic pollution. The green aventurine also soothes nausea and dissolves negative emotions and thoughts. It brings well-being and emotional calm. The green aventurine crystal is a grounding and stabilizing crystal. You can use green aventurine if you tend to overthink or ruminate over situations and get stuck in your head.
Most effective way to use:
Because Aventurine absorbs electromagnetic smog and protects against environmental pollution, keep it around your house and at work. When attached to a cell phone, it protects against its emissions. Use this stone to help diffuse anger.
Important things to remember:
As the "Stone of Opportunity," Green aventurine is thought to be the luckiest of all crystals, especially in manifesting prosperity and wealth. It also helps you release old patterns, habits, and disappointments so new growth can take place.
What Chakra is Green Aventurine quartz used for?
Heart Chakra
12. Blue Apatite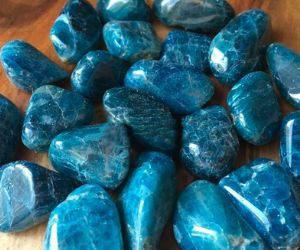 Healing properties:
Apatite increases motivation and builds up energy reserves. This stone can help you overcome self-consciousness because it promotes openness. It is beneficial in easing sorrow and anger, and in reducing irritability and emotional exhaustion. As a result of its uplifting energy, Blue Apatite encourages optimism and a positive outlook.
Most effective way to use:
This stone can be found in a variety of jewelry items, such as rings, necklaces, pendants, bracelets and earrings. However, it is not a very hard stone, so you will need to be more careful.
Important things to remember:
The blue apatite is beneficial for psychic purposes. It is related to divination. With this in mind, you can keep this stone next to you when you meditate or pray. The closer it is to your third eye chakra, the more effective its properties will be.
What Chakra is Blue Apatite Quartz used for?
Throat Chakra (Apatite helps eliminate over-activity, under-activity, blockages and congestion in all of the chakras.)
13. Bloodstone
Healing properties:
Bloodstones cleanse the blood and heal the body. As well as enhancing intuition and creativity, it also protects and grounds you. Bloodstone helps ward off colds, flu, infections, and inflammation by stimulating the immune system. Additionally, it can revitalize and reenergize the body after illness, injury, or physical exhaustion.
Most effective way to use:
When necessary, use Bloodstone as an amulet of protection and guidance against threats, bullying, or verbal abuse. When worn or carried, Bloodstone increases mental clarity and aids decision-making. In times of low motivation and exhaustion, it can revitalize the mind and body.
Important things to remember:
Bloodstone stimulates dreams and enhances intuition. It is also great for increasing creativity, and encourages blessings and prosperity.
What Chakra is Bloodstone quartz used for?
Root, Sacral, Heart, and Solar Plexus Chakra
14. Hematite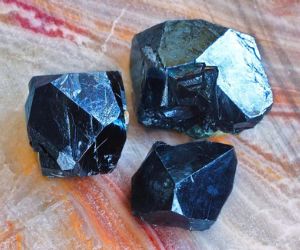 Healing properties:
Stones like hematite can be helpful for overcoming shyness, and self-esteem, instilling confidence, increasing self-reliance, and boosting willpower.
Most effective way to use:
Hematite works best when it is directly applied to the skin. Necklaces and bracelets with beaded accents are commonly made from them.
Important things to remember:
Hematite, an iron-rich stone, is known to be a powerful grounding force and energy shield.
More of my favorite crystals for stress and anger:
Charoite
Emerald
Dioptase
Moldavite
Tourmaline
Fluorite
Tigers Eye
Jasper
Tigers Eye
Lepidolite
Ocean Jasper
Citrine
Ocean Jasper
Selenite
Carnelian
Turquoise
Malachite
Howlite
Yellow Jasper
Sodalite
Rhodonite
Obsidian
Labradorite
Chrysocolla
Peridot
Amazonite