Starting a mindfulness routine can feeling daunting. Let me be honest, mindfulness is one of those things that's easier said than done. It takes practice. I've been practicing mindfulness for over a decade and I still have times when I struggle. Even-so, the point is, you have to start somewhere.
What is one of your favorite mindfulness activities to do as a busy mom?
This question was posed to a group of mothers to find out what their favorite mindfulness activities were. From mindful breathing to improving morning routines, busy moms agree that there are many things they can easily do to simplify their lives.
Here are five simple mindfulness activities for busy moms:
Do Mindful Breathing
Writing down your Gratitudes
Focus on Productive Morning Routines
Enlist a mindfulness buddy


1. Mindful Breathing
I found mindful breathing the best mindfulness activity because it's so easily accessible. I like other mind-body exercises, such as body scans, the five senses exercise, or guided meditation, but they require special places, items, or conditions. Breathing techniques are available everywhere and anytime. In my busy parenting life, I appreciate this opportunity to practice them whenever I need to calm myself, connect with myself, or get strong inwardly.
Karolina Zajac, Passport Photo Online
Tips to getting started with Mindful Breathing:
The beautiful thing about mindful breathing is that you can truly do this anywhere and at anytime. Of course, this requires some discipline because you may be doing this with distractions around you. When you begin, try to find a quiet place (maybe in the car or even the closest if you have to!) and just allow yourself to slow down.
My favorite mindful technique is square breathing.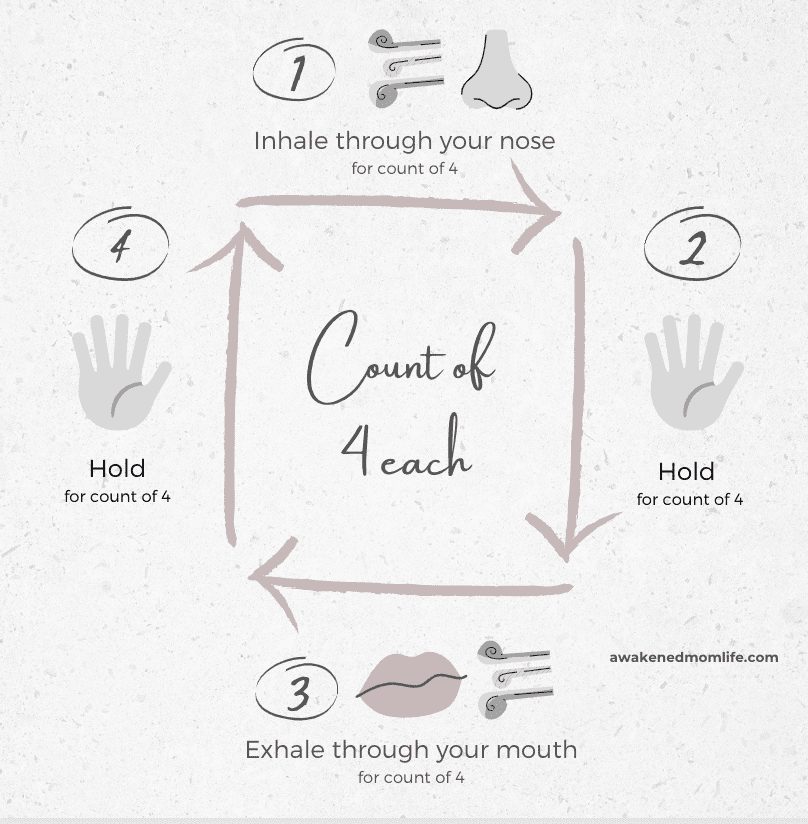 2. Writing down your Gratitudes
I write a gratitude journal and really appreciate this space devoted to blessings in my life. The rule is to mention at least five positive aspects of each day, no matter how challenging, exhausting, or just bad the day may be.
My favorite time to write is in the evening before I go to sleep. It has a positive influence not only on my mood but also on sleep quality. As a working mom, I find a gratitude journal a great reminder of all the little things adding everyday life sparkle. Writing a gratitude journal makes me happy.
Agata Szczepanek, MyPerfectResume
Tips to getting started with a gratitude journal:
Maybe you don't even have to start with a journal. Find a scrap of paper and write down 1-3 things that you are grateful in your life. Sit with that energy for a moment. That energy of gratitude will carry you far and is indispensable on your growth journey. Remember, start where you are instead of trying to make it perfect. Just because you don't have a journal, doesn't mean you can't start. The point of all of this is to simply do it and then work your way up to making it into a habit. The last thing you want is to add an entirely new habit and expect perfection. Give yourself grace and do what you can.
3. Do Guided Meditation
Guided meditations using videos from YouTube or listening to audio through Spotify or any other platform is one of my favorite mindfulness activities that help me cope with work. It's an activity I recommend to busy moms or parents since they help relax stress and pressure.
Gisera Matanda, WeLoans
Tips to getting started with guided meditation:
Find what works for you! Some moms that I work with love a long guided meditation while others enjoy a short body scan. Don't think what works for one person is what is going to work for you. Remember, it takes practice. When you begin, you will find that you mind is constantly being pulled in different directions. This doesn't mean it isn't working… it means that opposite. YOU noticing that your mind is wondering, is the first step to living more mindfully. It is a part of the journey as you become more aware of bringing your thoughts back.
Here is a great (and short, 5-minutes!) meditation from Deepak Chopra.

4. Focus on Productive Morning Routines
Focus on the morning routines to achieve mindfulness for the day. A short walk in the fresh air and even one calming yoga posture in an open space can improve productivity for a busy mom. It builds peace and flushes the unnecessary distractions in mind for a progressive day.
Huzaifa Ahsan, FindPeopleFirst
Tips to getting started with a mindful morning routine:
Again, start small. If you try to boil the ocean you will fail. Then you are less likely to make an attempt in the future. What is one thing you can do in under 5 minutes when you first wake up to be more mindful? I highly (HIGHLY) recommend you do this as soon as you wake up. If you attempt to do this once the kids are up and the house is full of chaos, you are less likely to follow through.
Consider walking out the front door and simply putting your feet in the grass. Feel the grass under your feet and take a few deep breathes.
Mindfully make your coffee. Instead of going through the process on autopilot, slow down and smell the aroma of the coffee. Listen as the drip falls to the cup.
Take a few minutes to stretch. Reach your hands to the sky and feel gratitude in your heart for a new day ahead. Feel your body expand and the energy of the day expanding through your body.
5. Enlist a friend to be a mindfulness buddy
Do you have a friend that would also benefit from more mindfulness? Consider reaching out and asking her/him to be an accountability partner. If you are anything like me, you are more likely to follow through on a commitment when you share it with someone. Building habits takes time and this can be a great step to creating more mindfulness habits in your life.
Connect with a friend and commit to sharing your 1 mindfulness activity each day. That's it. Over time, you can increase your commitment but start with something small and sustainable.
Want to take your mindfulness practice to the next level?
Check out the Awakened Mom Life Academy.