Reprogramming for Resilience:
Coping Skills for Trauma Survivors
This self-study online course aims to teach trauma survivors healthy coping skills to manage stress and improve decision-making abilities. Through the course, you will gain insight into your habitual trauma response patterns and discover how to use mindfulness, and cognitive techniques to regulate your emotions, minimize anxiety, and boost resilience.
Does it feel like you are living the same day over and over no matter how hard you try to change?
You've been working hard to change, but you still feel so far away from where you want to be. I get it. It seems impossible to lock in the life changes you want, no matter how hard you try.
It may be adjusting to a healthier lifestyle, becoming more assertive, or increasing self-esteem, but you feel trapped and unsure what to do. You're motivated but always wind up in the same place as you started…
Unhappy with your results and falling back into old habits.
As a trauma survivor, your brain operates differently. And trying to create change like everyone else just doesn't work. You've been taught that motivation and willpower are enough to change; it's not. You can't out-think your emotions.
It doesn't work that way.
It's time to flip everything you think about, creating changes in your lie. It's time to learn how to break old thought patterns so you can create new behaviors.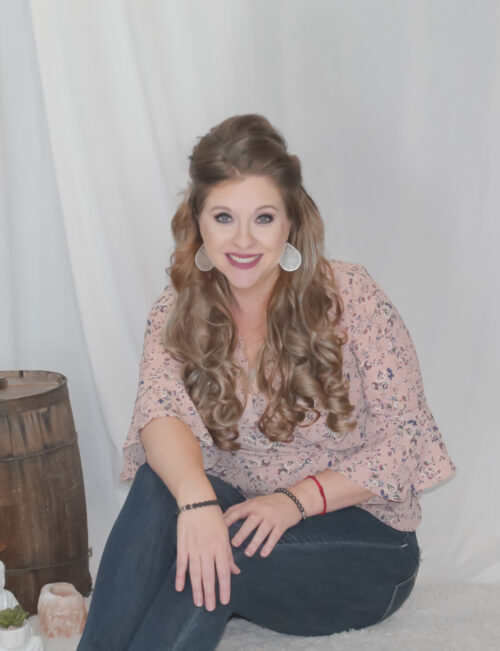 WIDOWED AT 24, SUICIDE ATTEMPT SURVIVOR, CHILDHOOD ABUSE, TO BEING DIAGNOSED WITH RARE NEUROLOGICAL CONDITION


During my journey, I have learned many valuable lessons, but one of the most significant ones has been how to create sustainable, long-lasting changes by understanding how trauma impacts your emotions, mental health, and body.

For years, my life was filled with depression, anxiety, and angry outbursts as I struggled to create the life I wanted. As I pushed harder, things got worse.
Overwhelmed trying to make life changes

Defeated by my own mind
Flustered by my constant negative thoughts
I was stuck on a hamster wheel
Angry that I couldn't just make the changes I wanted (a new diet, setting boundaries, etc)
Fearful that my life would never truly change
Constantly upset
Absolutely alone and misunderstood
Pushed harder and harder o create the changes I wanted
Spent all my time obsessing about getting my dreams to happen (with little success)
Pretended that I had my life together to hide my insecurity
Blamed my circumstances and people in my life for own unhappiness
Started to convince myself that I was doomed to be stuck forever
Does this resonate with you? You've come to the right place.
My life changed forever when I finally made the ultimate discovery
Having grown professionally and personally for years, I have finally figured out how to create long-lasting, sustainable change with less struggle. 
The truth is… you have to do things differently when you have experienced complex trauma.
And, the answer is based on science and neuroplasticity. 
Today, I teach trauma survivors worldwide how to get results quicker and easier so they feel more fulfilled and accomplished.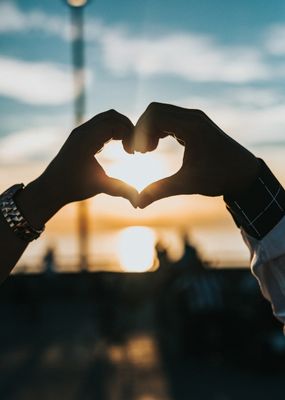 What will you learn in the Reprogramming for Resilience Course?
In the Awakened Mom Life Reprogramming for Resilience Course
This online course is made for busy moms. Lessons average 10-15 minutes to complete. Lessons are a mix of short video, audio, and written. No crazy long video lessons or endless reading.
Simply aim to commit 15-minutes a night to this course to see results.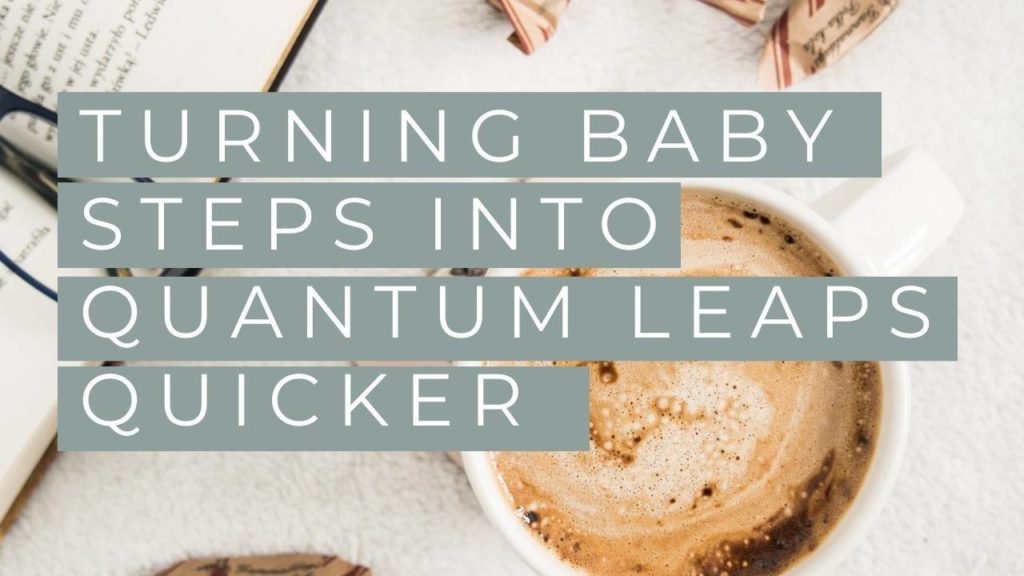 Turning Baby Steps into Quantum Leaps Quicker
1.1 – Navigating This Course
1.2 – A Special Welcome & Notes
1.3 – The Right Trauma-Informed Tools to get Results Quicker & Easier
1.4 – The Proof is in the Pudding
1.5 – What does it Mean to Live with Resilience?
1.6 – Why you Feel Stuck, no Matter how hard you try?
1.7 – When Therapy Doesn't work (or Makes things Worse)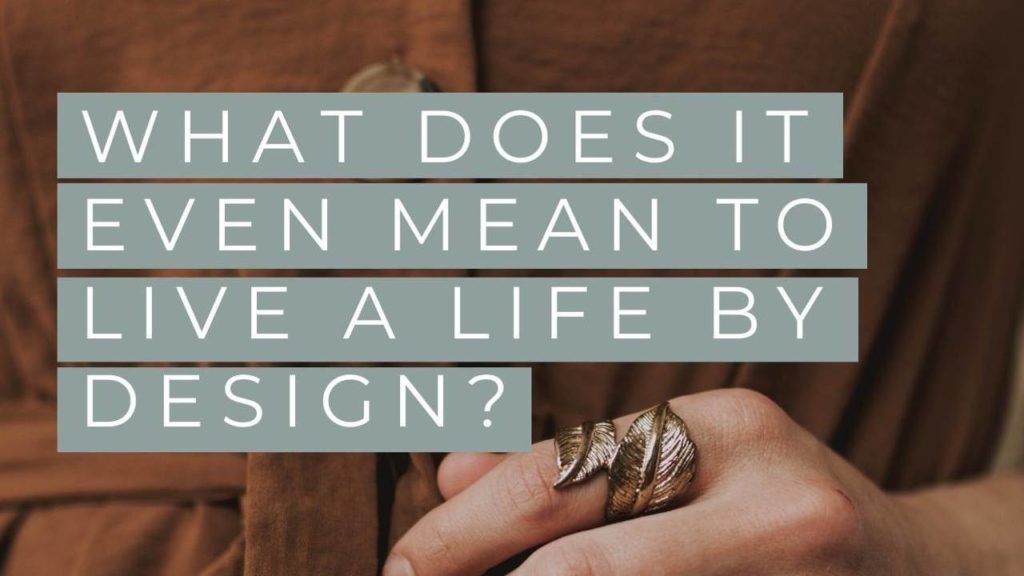 What Does it Even Mean to Live a Life by Design?
2.1 – Living a Life by Design
2.2 – Breaking it Down
2.3 – Invisible Wounds Creating Limitations
2.4 – What's your Wooden Peg?
2.5 – What Would you Love?
2.6 – What Does Your Dream Life Look Like?
2.7 – What Does it Feel like?
2.8 – Making Changes that Stick According to Neuroscience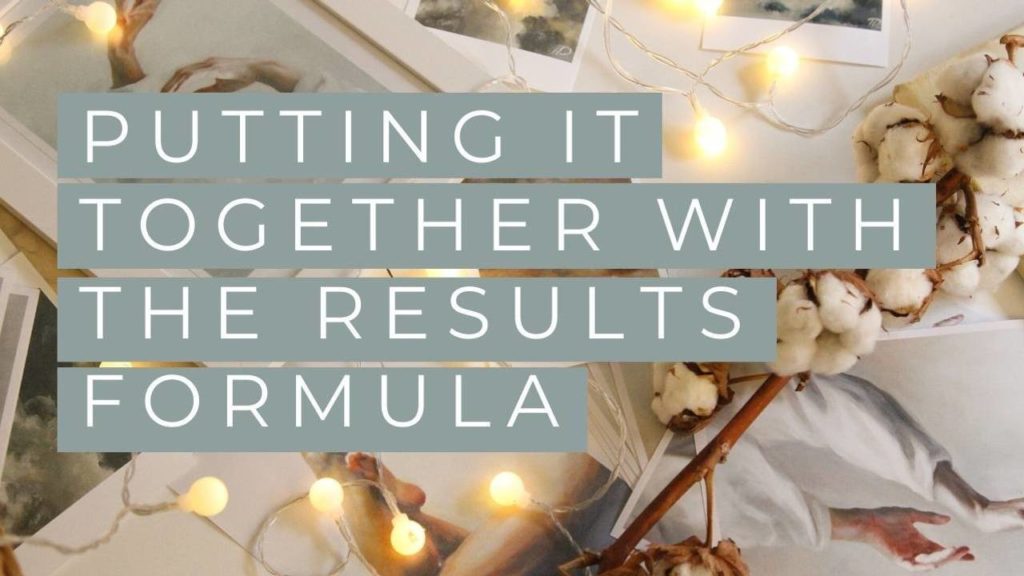 Putting it Together with the Results Formula
3.1 – What's Next in Creating your Dream Life?
3.2 – Jumping into the Results Formula
3.3 – How can you Implement the Results Formula into your Life?
3.4 – Life Lessons from Chinese Bamboo
3.5 – Give yourself Grace
3.6 – The Key to Taking Action
3.7 – Write it Down [Journal]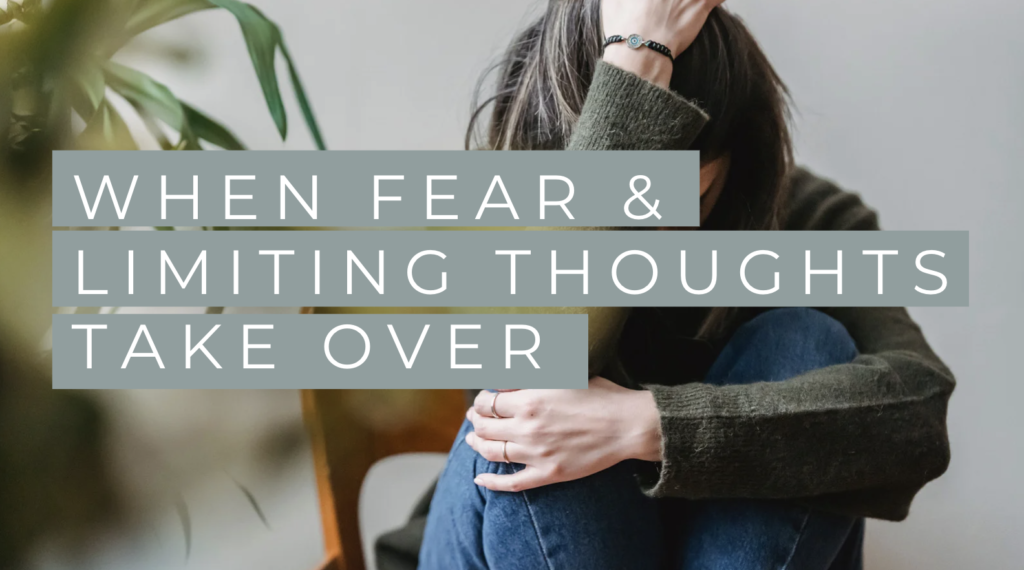 Understanding your Fear and why it's holding you back
4.1 – When Core Wounds that keep you Living in Fear
4.2 – Your Hidden "Rules"
4.3 – The Most Effective way to Tame Your Inner Critic
4.4 – Moving Through Fear
4.5 – De-Constructing Fear
4.6- Exposure Ladder (When to use it and when NOT to)
4.7 – Write it down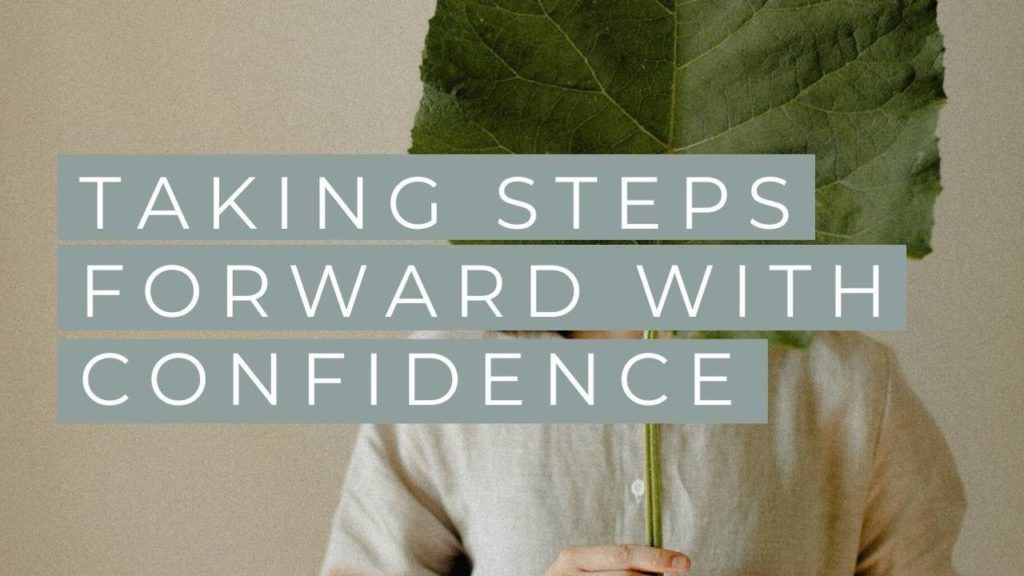 Taking Steps Forward with Confidence
5.1 – When you Feel Indecisive
5.2 – The 5-Second Rule
5.3 – Grounding
5.4 – The Cycle of Healing
5.5 – Trauma-informed care
6.1 – EFT for Self-Confidence
6.2 – EFT for Getting un-stuck
6.3 – Releasing Negativity Guided Meditation
6.4 – Loving Kindness Meditation
Course materical may vary slightly as updates and additions are made to keep improving.
15-minutes a night to change your life
You can continue down the road of trial and error, or reading more self-help books… 
Or you can get the science-based step-by-step blueprint to creating more resilience.
It's not enough to simply recognize your habits, you have to understand why you keep getting stuck and how trauma is impacting you.
This program is
PERFECT
for you if you are...
Ready to make a change in your life
Excited about trying something new
Open to challenging old beliefs
Willing to step outside of your comfort zone in a safe and supportive environment
This program is
NOT
for you if you are...
Not ready for change (that's okay, sometimes it's just not the right time)
Too afraid to try new ideas
Not willing to think outside of the box
Want to avoid the hard work to make magic happen
Feeling suicidal and in crisis **
If this isn't the right program, that's okay. If this isn't the right time, that's okay.

**If you are feeling suicidal and in crisis, please contact a medical professional for help. When you are in a state of crisis, your body is flooded with stress hormones like adrenaline and cortisol. This makes it harder to think clearly, concentrate, and remember information. This is why our program won't be beneficial right now. It's essential to find medical care to get into a more regulated state so you can participate fully.
If you need immediate help, dial 988, or visit 988 Suicide & Crisis Lifeline for live chat.
Hear what others have to say...
"Through Kristina's guidance I have clarified my goals and objectives and just this afternoon submitted a proposal for work with my ideal client, I felt comfortable presenting it with limits and authenticity. I am very excited to see what the next few weeks with her program reveal to me about myself and really looking forward to this next chapter of my life where I am more comfortable in my own skin. Thank you!!"
"Kristina is a natural leader, who excels at connecting with people and helping them reach their full potential. She is a great motivator, and her enthusiasm is contagious!"
"Kristina is a fantastic teacher. She is a loving, kind, kick-in-the-pants leader who not only inspired me to dream bigger, but showed me how I could actually make those dreams into a reality. She is a great combination of encouragement and practicality who brings serious results!"
"I was experiencing a lot of work related stress and anxiety which was affecting my personal life and my health. With Kristina's guidance, I found a path that has brought me more satisfaction in both my professional and personal life. She helped me identify my strengths without focusing on my weaknesses. She helped me put together an action plan with realistic goals that helped me become a better employee and better person overall."
"Kristina, you embodies what it is to be a strong woman, and you always advocate for what you think is right, both on a professional level and a human level. As a woman who still struggles to feel like I belong in the tech world and who still struggles to find my voice, I look to you and remember that I belong here and that I can achieve greatness. So thank you for being such a positive role model to me and for just being you."
You will learn how to manage stress better and overcome challenges without becoming overwhelmed.
Greater Success and Achievement
Feel more secure in handling setbacks and adversity and more confident in the face of fear.
By improving your ability to manage stress and cope with hardship, you are less likely to experience the negative physical consequences of stress.
There are two ways to get started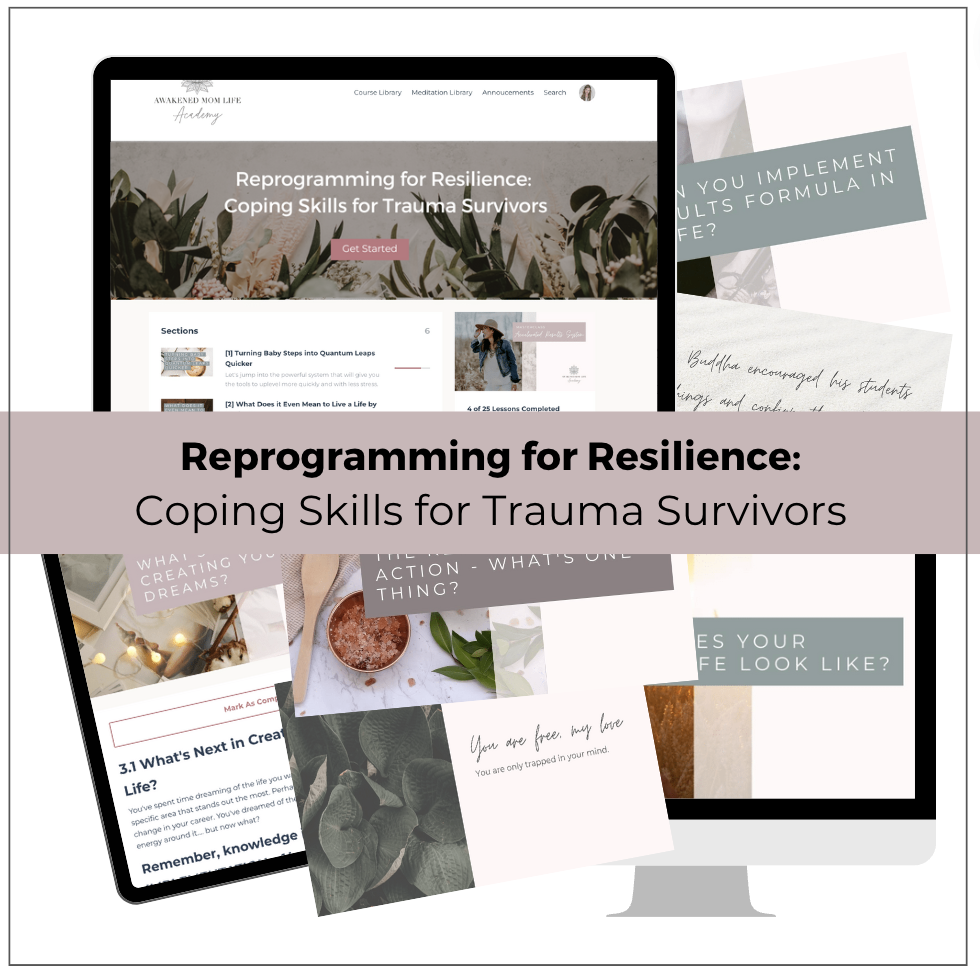 Reprogramming for Resilience: Coping Skills for Trauma Survivors
Online course lessons (Video, Audio, Articles)

Transformative Activities & Guided Prompts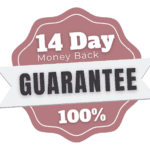 14-Day Money Back Guarantee
I don't want unhappy money or unhappy clients. If this program doesn't meet your expectations for any reason, then reach out to us, hello@awakenedmomlife.com, and we'll refund your money. No questions asked.