Our society's most influential mindfulness thought leaders, including Deepak Chopra, Gabrielle Bernstein, and Oprah, are examples of how dreams can become reality. On their journeys, they all used manifestation, and you can do the same by using a vision board. Have you considered creating a vision board before but haven't followed through? Or maybe you've created a vision board in the past and it didn't do much for you?
If you have ever created a vision board before or you are brand new to it, I want to give you the ultimate guide to creating one. This is what I wish I had when I first started. I want you to be able to harness the power of vision boards without the guesswork.

I can still remember my very first vision board. I felt so far away from my goals that putting them on a board seemed pointless. But that experience set me on a path that changed my life forever. I have grown spiritually in ways I never imagined possible. Plus, I now lead a holistic health-focused life. Ten years ago, if you asked me if any of this was even remotely possible, I would have said hell no.
I want you to know that with faith, patience, and consistent action, you, too, can manifest your dreams.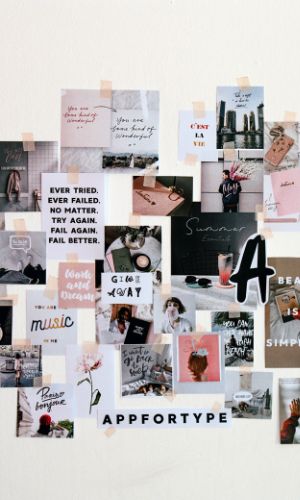 A vision board is a powerful way to create your ideal life. Here are some important things you should know when creating your new board.
What is a vision board?
In short, a vision board is a collection of images, words, phrases, or inspirational quotes that visually bring to life your dreams and desires.

How effective are vision boards?
When done correctly, vision boards can change your life. If you think adding some images to a board will magically make things appear, then you're heading in the wrong direction. The key is to create a plan of action to make the vision board into a reality. Use it as a daily reminder of what you desire.

What is the power of a vision board?
A vision board is a visualization tool and visualization is the first step in the law of attraction. When you put together a collection of images that represent your dreams, you help your subconscious understand that this can be your new reality. When you look at your vision board and feel excitement, joy, and passion, that energy is what gives you the power to manifest through the Law of Attraction.

How do I get the most out of my vision board?
The law of vibration is the first thing you need to understand. The vibrations of your body are determined by your emotional state. And by choosing and directing your thoughts, you are able to control the frequency of your being. By feeling love and happiness, you are raising your vibration.

Creating a vision board is a process that you should do mindfully from start to finish. The key is to create the energy around your dreams and to allow yourself to feel that sense of happiness, joy, inner peace as often as possible. You should put your board in a place that you will see often. Yet, it's not enough to just see your board. You need to make sure you are sitting with those desired emotions to shift your vibration.

Can you do a vision board online?
Absolutely. You can create a digital version of your vision board in whatever capacity suits you best. This is about you and what brings you to life. If you want to create a digital vision board, here is a great vision board starter kit on Pinterest.

Is it better to have a physical vision board?
It's really preference. A physical vision board has an advantage because you can place it somewhere you know you'll see on a regular basis. The great thing about having a vision board is that you make it whatever works for you! So if you love the idea of grabbing some poster board and a handful of magazine cutouts, go for it!

What's the difference? Vision board vs goal setting?
The purpose of a vision board is to visualize your dreams in order to work with the law of attraction. You are working to create a specific vibration to attract what you desire. Setting goals is tactical and can be a great way to supplement your vision board.

Can a vision board help with mental health?
Yes and I am proof of that. One of my very first goals on my vision board was to figure out how to overcome my lifelong depression. Vision boards can help with mental health because it can give you boosts of serotonin and can impact your neural plasticity. This is another reason it's important to put your vision board in a good place where you can see it often.

Can I add positive affirmations to my board?
Of course. Add anything and everything that helps you feel that shift in your energy. I love adding inspirational quotes before they help me get into the right mindset.

What kinds of things should I put on my vision board?
We create results in four areas of our life. This includes career, health, wealth, and relationships. You can choose to do a vision board that focuses on one area of your life or you can do something that covers them all. Is it a new car, new house, or new romantic relationship you are looking for? Or maybe, it's all of the above!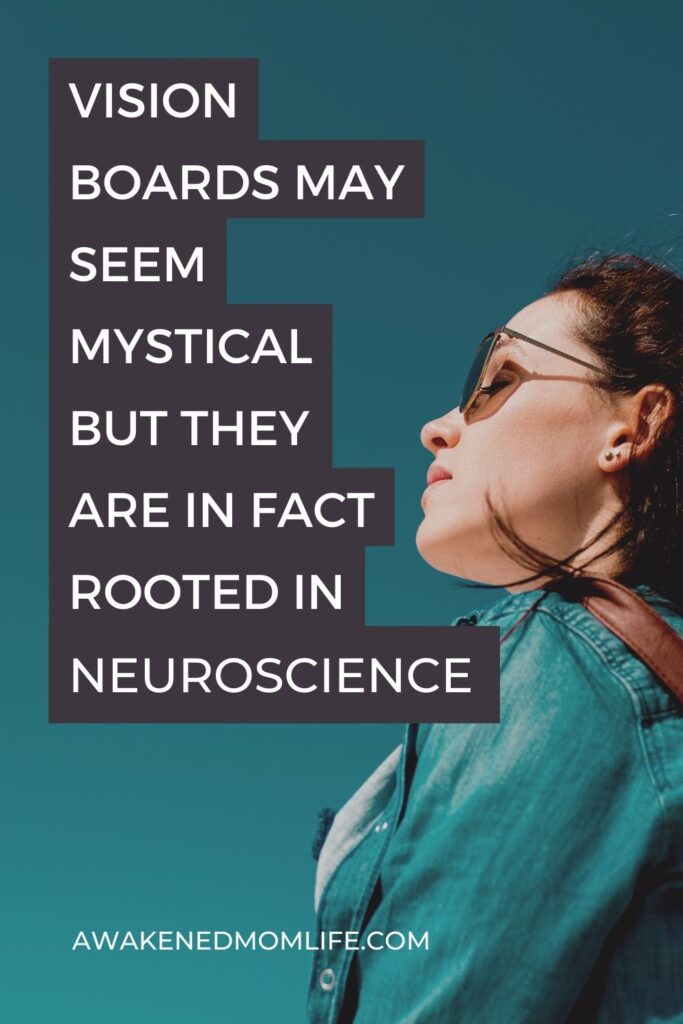 The power of visualization according to science
Studies of the brain have revealed that thoughts produce the same mental instructions as actions. Imagination impacts many cognitive processes in the brain, including motor control, attention, perception, planning, and memory. Visualization trains the brain to perform in the real world.

Researchers have found that visualization can improve motivation, boost confidence and self-efficacy. You are priming your brain for success.
Neuroscientist, turned executive coach, Tara Swart explains that by viewing images on a vision board, the brain is primed to spot opportunities that could otherwise go unnoticed.

It's because the brain imprints important things on your subconscious mind and filters out irrelevant information using a process called "value-tagging." According to Swart, the brain gives images a higher "value" than words on a "to-do" list, and the more you look at them, the more important they become.
To help you appreciate how using a vision board can help you reach your ambitious goals, we asked CEOs and business leaders this question for their best insights.
From vision boards helping put your goals into perspective to the boards enhancing your creativity, there are several ways mentioned that may help you better understand how much vision boards can aid your drive toward your personal development.

Here are five ways a vision board helps reach your dream life:
It Helps Put Goals into Perspective
Personalizing Provides a Unique Meaning
Vision Boards Clarify Life Themes
It Helps Direct What Needs To Be Done
It Enhances Creativity

---
Helps Put Goals into Perspective
With the hustle and bustle of everyday life, it may seem as if the goals that you have set for yourself are too far to grasp. Having a vision board allows you to put your goals into perspective, by reminding you that bigger and better things are yet to come. They serve as a constant reminder of what it is that you would like to make out of your life. Whether it be a vacation or a professional goal, they serve as a constant reminder as to what you would like to do with your time and energy. That said, vision boards help you envision a life that you aspire to live.
Adrian Pereira, Eco Pea Co.
Personalizing Provides a Unique Meaning
Consider making it more unique by including a picture of yourself on it. Quotes and inspiring photographs are great, but adding your own thoughts or photos that you've taken can make the message behind your vision much more meaningful to you. If you want to achieve some substantial personal development goals, such as being ready for your next job, this phase is critical.
Ayman Zaidi, GreatPeopleSearch
Vision Boards Clarify Life Themes
Vision boards are awesome because they help you identify the things that are most important to you. Your path of goals becomes clear once you have all your pictures together. Another element of a vision board is the pictures you choose tend to create a theme that you can identify. Understanding the theme of your life at the moment helps you strategize your goals and track your progress.
Steve Mascarin, Taunton Village Dental
It Helps Direct What Needs To Be Done
A vision board is very important in planning. It helps a person identify their current position, what they have achieved and how far they have come. The vision board also helps people to plan for the future. Knowing your current position helps a person to know the best path to go to continue with their path to success. This is the reason why a vision board helps people, including me, to reach our full potential.
Ivy Bosibori, USBadCreditLoans
It Enhances Creativity
One of the best vision board benefits is that it enhances creativity. A vision board allows a visual presentation of goals and dreams. Generally, it contains a form of a collection of motivational quotes, images, and other text. Creating a vision board automatically enhances creativity. When we make a vision board, we naturally work open-mindedly about the things we want to achieve in our life.
The Vision board reminds us of our initial individual or professional development plan. As a result, we work on innovative solutions and different ways to achieve our goals. By creating a colorful, rich dream board, you develop creativity and start taking action to accomplish your dream.
Shivanshi Srivastava, PaydayLoansUK
---
---