I absolutely love inspirational quotes. They can remind us about the important things in life while giving us hope about living life on our own terms while facing tough times. Whether you are already a successful female entrepreneur or aspiring, you can learn from these powerful women. Don't let anyone else tell you otherwise; at the end of the day, motivational quotes are a fantastic personal development tool. Here are some of my absolute favorite quotes from strong women across the globe.
Powerful Motivational Quotes for Female Entrepreneurs
I always did something I was a little not ready to do. I think that's how you grow. When there's that moment of 'Wow, I'm not really sure I can do this,' and you push through those moments, that's when you have a breakthrough. – Marissa Mayer
"When you're knocked down, get right back up and never listen to anyone who says you can't or shouldn't go on." – Hillary Clinton
"If you learn something new every day, you can teach something new every day." – Martha Stewart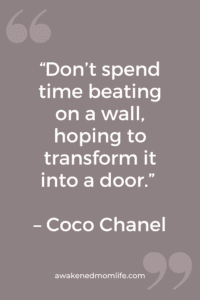 "Don't spend time beating on a wall, hoping to transform it into a door." – Coco Chanel
"When you assume negative intent, you're angry. If you take away that anger and assume positive intent, you will be amazed. Your emotional quotient goes up because you are no longer almost random in your response." – Indra Nooyi
"Whatever it is that you think you want to do, and whatever it is that you think stands between you and that, stop making excuses. You can do anything." Katia Beauchamp, Cofounder and CEO, Birchbox
"Believe in yourself, dream bigger and stop making excuses. You can do whatever you're willing to work hard enough at." – Katia Beauchamp, Cofounder and CEO, Birchbox
"Nights are meant for embracing the decorated lights that have lost there glow to the sunlight." – Ishita Gupta
"Don't sit down and wait for the opportunities to come. Get up and make them." – Madam C.J. Walker
"Dream, struggle, create, prevail. Be daring. Be brave. Be loving. Be compassionate. Be strong. Be brilliant. Be beautiful." – Caterina Fake
"Life-fulfilling work is never about the money — when you feel true passion for something, you instinctively find ways to nurture it." – Eileen Fisher
"When I thought I couldn't go on, I forced myself to keep going. My success is based on persistence, not luck." – Estée Lauder
"Entrepreneurship is the last refuge of the trouble-making individual." – Natalie Clifford Barney
"You need to pave your own way in the world." – Lori Greiner
"I will not compare myself with others, nor them with me. I will appreciate myself and others for what I and they contribute." – Gail Blanke
"Don't try to be all things to all people. Concentrate on selling something unique that you know there is a need for, offer competitive pricing and good customer service." – Lillian Vernon
"Whatever you do, be different – that was the advice my mother gave me, and I can't think of better advice for an entrepreneur. If you're different, you will stand out." – Anita Roddick, founder of the Body Shop
"Success isn't about how much money you make, it's about the difference you make in people's lives." – Michelle Obama, Former First Lady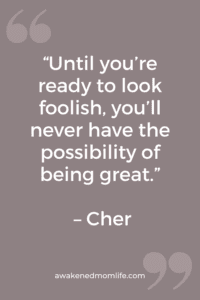 "Until you're ready to look foolish, you'll never have the possibility of being great." – Cher
"Don't limit yourself. Many people limit themselves to what they think they can do. You can go as far as your mind lets you. What you believe, remember, you can achieve." – Mary Kay Ash, Founder of Mary Kay Cosmetics
"Define success on your own terms, achieve it by your own rules, and build a life you're proud to live." – Ellen Degeneres, Comedian, Talk Show Hostess, Actress, Writer, Producer
Madeleine Albright
"You've got the guts to find your own purpose."
"Women can't do everything at the same time, we need to understand milestones in our lives comes in segments."
"It took me quite a long time to develop a voice, and now that I have it, I am not going to be silent." – Madeleine Albright
"Our collective experience has shown that when women have the power to make their own choices, good things happen."
Oprah Winfrey
"When you undervalue what you do, the world will undervalue who you are."
"Doing the best at this moment puts you in the best place for the next moment."
"One of the hardest things in life to learn is which bridges to cross and which bridges to burn."
"Challenges are gifts that force us to search for a new center of gravity. Don't fight them. Just find a new way to stand."
"Surround yourself only with people who are going to take you higher."
"You get in life what you have the courage to ask for." – Oprah Winfrey
"The key to realizing a dream is to focus not on success but on significance—and then even the small steps and little victories along your path will take on greater meaning."
"Passion is the log that keeps the fire of purpose blazing."
"The best gift anyone can give, I believe, is the gift of sharing themselves."
"The big secret in life is that there is no big secret. Whatever your goal, you can get there if you're willing to work."
"You know you are on the road to success if you would do your job and not be paid for it."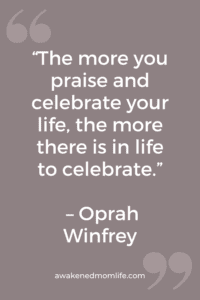 "The more you praise and celebrate your life, the more there is in life to celebrate."
"With every experience, you alone are painting your own canvas, thought by thought, choice by choice."
"Every time you state what you want or believe, you're the first to hear it. It's a message to both you and others about what you think is possible. Don't put a ceiling on yourself."
"Over the years, I've interviewed thousands of people, most of them women, and I would say that the root of every dysfunction I've ever encountered, every problem, has been some sense of a lacking of self-value or of self-worth."
Eleanor Roosevelt
"Courage is more exhilarating than fear and in the long run it is easier. We do not have to become heroes overnight. Just one step at a time, meeting each thing that comes up, seeing it is not as dreadful as it appeared, discovering we have the strength to stare it down."
"Surely, in the light of history, it is more intelligent to hope rather than to fear, to try rather than not to try. For one thing we know beyond all doubt: Nothing has ever been achieved by the person who says, 'It can't be done.'"- Eleanor Roosevelt
"The future belongs to those who believe in the beauty of their dreams." – Eleanor Roosevelt
"You must do the thing you think you cannot do."
"Do what you feel in your heart to be right – for you'll be criticized anyway."
"I am who I am today because of the choices I made yesterday."
"Be confident, not certain."
"You not only have a right to be an individual. You have a responsibility."
"Do one thing every day that scares you."
"With the new day comes new strength."
"It is better to light a candle than curse the darkness."
"Nothing has ever been achieved by the person who says, 'It can't be done.'"
"The purpose of life is to live it, to taste experience to the utmost, to reach out eagerly and without fear for newer and richer experience."
"You can often change your circumstances by changing your attitude."
"You have to accept whatever comes, and the only important thing is that you meet it with the best you have to give."
Arianna Huffington
"We need to accept that we won't always make the right decisions, that we'll screw up royally sometimes – understanding that failure is not the opposite of success, it's part of success."
"We think, mistakenly, that success is the result of the amount of time we put in at work, instead of the quality of time we put in."
"Life is a dance between making it happen and letting it happen." – Arianna Huffington
"Success is commonly defined as money and power, but increasingly that's not enough. It's almost like a two-legged stool where you fall over if that's all you measure your life by."
"Vision without execution is hallucination."
"What is success? It is being able to go to bed each night with your soul at peace."
"It's not 'What do I want to do?', it's 'What kind of life do I want to have?'"
"Success is not a straight line, it's much more of a dance and being open to possibilities."
"Fearlessness is like a muscle. I know from my own life that the more I exercise it the more natural it becomes to not let my fears run me. Fearlessness is not the absence of fear. It's the mastery of fear. It's about getting up one more time than we fall down."
"I do not try to dance better than anyone else. I only try to dance better than myself."
"We all have within us the ability to move from struggle to grace."
"And every day, the world will drag you by the hand, yelling, "This is important! And this is important! And this is important! You need to worry about this! And this! And this!" And each day, it's up to you to yank your hand back, put it on your heart and say, "No. This is what's important."
"I find that I am much more creative when I've actually taken care of myself."
"Naysayers have little power over us – unless we give it to them."
"If you take care of your mind, you take care of the world." – Arianna Huffington
"Take risks. Failure is a stepping stone to success."
"When we believe in something, we got to stay with it, even when the world tells us no."
"The first step toward changing the world is to change our vision of the world and of our place in it."
"You can't run your life from your inbox. The difference between failure and success is perseverance."
"You have to do what you dream of doing even while you're afraid."
"Being fearless doesn't mean living a life devoid of fear, but living a life in which our fears don't hold us back."
"Too many of us leave our lives – and, in fact, our souls – behind when we go to work."
"Don't buy society's definition of success because it's not working for anyone." – Arianna Huffington
"Are we living our dream, or are we living somebody else's dream?"
"In life, the things that go wrong are often the very things that lead to other things going right."
"Sometimes people let the same problem make them miserable for years when they could just say 'so what.' That's one of my favorite things to say."
Sheryl Sandberg, COO Facebook
"Women attribute their success to working hard, luck, and help from other people. Men will attribute that – whatever success they have, that same success – to their own core skills."
"We cannot change what we are not aware of, and once we are aware, we cannot help but change." – Sheryl Sandberg
"There is no perfect fit when you're looking for the next big thing to do. You have to take opportunities and make an opportunity fit for you, rather than the other way around. The ability to learn is the most important quality a leader can have."
"Fortune does favor the bold and you'll never know what you're capable of if you don't try."
Sara Blakely, Founder of Spanx
"Don't be intimidated by what you don't know. That can be your greatest strength and ensure that you do things differently from everyone else."
"The smartest thing I ever did was to hire my weakness."
"It's important to be willing to make mistakes. The worst thing that can happen is you become memorable."
"Most of the reason we don't do things is because we're afraid to fail. I just made a decision one day that I was not not going to do things in my life because of fear."
"Differentiate yourself! Why are you different? What's important about you? Why does the customer need you?" – Sara Blakely
"You've got to visualize where you're headed and be very clear about it. Take a Polaroid picture of where you're going to be in a few years."
"Don't solicit feedback on your product, idea or your business just for validation purposes. You want to tell the people who can help move your idea forward, but if you're just looking to your friend, co-worker, husband or wife for validation, be careful. It can stop a lot of multimillion-dollar ideas in their tracks in the beginning."
"Failure is not the outcome – failure is not trying. Don't be afraid to fail."
"Perseverance is the key to starting a successful business."
"I think failure is nothing more than life's way of nudging you that you are off course." – Sara Blakely
"I feel like money makes you more of who you already are."
"Whatever you can think, you can create; just have a very clear vision… Once you have your snapshot, work on filling in the blanks to get to that place."
"There is a hidden blessing in the most traumatic things we go through in our lives. My brain always goes to, 'Where is the hidden blessing? What is my gift?"
"Courage is doing something despite the fear, and I've worked hard on being a courageous person."
Maya Angelou
"If you don't like something, change it. If you can't change it, change your attitude."
"My mission in life is not merely to survive, but to thrive; and to do so with some passion, some compassion, some humor, and some style."
"People will forget what you said, people will forget what you did, but people will never forget how you made them feel."
"If you're always trying to be normal, you will never know how amazing you can be."
"Do the best you can until you know better. Then when you know better, do better." – Maya Angelou
"Love recognizes no barriers. It jumps hurdles, leaps fences, penetrates walls to arrive at its destination full of hope."
"I've learned that you shouldn't go through life with a catcher's mitt on both hands; you need to be able to throw something back."
"Hate, it has caused a lot of problems in the world, but has not solved one yet."
"No matter what happens, or how bad it seems today, life does go on, and it will be better tomorrow."
Bookmark this page, and the next time you feel you need some encouragement because you are struggling with the fear of the unknown… remember that the real power is always within you.